I just wrapped up my first real book tour, in support of the Hieroglyph anthology. I was lucky enough to attend events in NYC, DC, and Ottawa. So, it was a tiny tour for me, but it was pretty packed.
For example, I got to visit Tumblr HQ with editor Kathryn Cramer (right) and contributor Elizabeth Bear (left). The three of us spent a lot of time hanging out over the tour, and I'm really glad we did. It was like Bridesmaids, or Thelma & Louise, only about science fiction writers. (Someone, please steal this pitch.)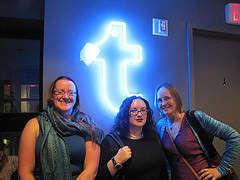 At Tumblr we did a reading and drank much iced tea. Every time I'm in the States, I try to drink as much unsweetened iced tea as I can. The only iced tea you can get in Toronto is Nestea, and it tastes like the bait left out for wasps in Hell. Pun intended.
The next day we set off for DC, for a meeting at the Office of Science and Technology Policy with even more of the Hieroglyph authors. It was a lot of fun. The people at OSTP I met seemed to love science fiction as much as they loved The West Wing, and could trace their careers to both sources. Plus, White House security guards do a more thorough job than customs agents, but they're a lot nicer about it. There's no real need for intimidation tactics. It's the White House. You're already intimidated.
("What do you think the dogs were sniffing for?" one of my fellow contributors asked. "Drugs? Weapons? Chemicals?"
"Fear," I said.)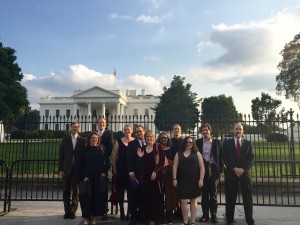 The next day, we had our big "Can We Imagine Our Way to a Better Future?" event at the Keck Center of the National Academies of Science, with contributors from Slate, the New America Foundation, and the Washington Post. Here you can see Neal Stephenson addressing the ideas that inspired the Hieroglyph idea in the first place:
And here's me, singing "Santa Claus is Coming to Town," while trying to make a point about surveillance and organized religion:
I had to sing for my supper, you see, because I'm sitting next to Bart Gellman, the guy who broke the Snowden story for the Washington Post. It was a little scary. I still don't quite believe that it happened.
Then I flew from one nation's capitol to another, DC to Ottawa, where I had a great time at Can-Con, reading from my story in the anthology, and also doing a bunch of really fun panels and catching up with people. Highlights included a really nice long chat with Jo Walton, who is just as kind as you imagine, and a great panel on feminist depictions of female villains, where this one guy said all feminists were lesbians, and I helpfully explained that while I was a feminist and thought the lady sitting beside me was quite pretty, I had no desire to fuck her. Then he followed me to all my panels and stared hard at me from the second row back. (Joke's on you, pal: they count attendees at those things, so they know whether to invite me back. Thanks for the great numbers!)
If you're still interested in the anthology after all that, you can read reviews at the Wall Street Journal, the New York Times, and the Guardian, where Damien Walters says: "The best contributions to Hieroglyph are the least optimistic, and the best attuned to the human reality that technology so often obscures. 'Entanglement' by Vandana Singh and Madeline Ashby's 'By the Time We Get to Arizona' both look at the impact of new technologies in developing nations and among the world's poorest people."