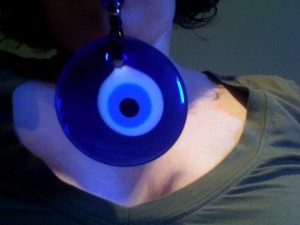 Tomorrow, I'm heading to the Detroit Design Festival, where I'll be creating my very first art installation for the Bordertown design group. The group has contributed costumes, games, souvenirs from aborted utopias, and other wonderful things. My piece is a series of design fictions about the future of border security in Istanbul. I based those fictions on this Guardian piece in which the Turkish PM says that the city should be split along international borders.
I'll share more about those stories after the opening. It may be old-fashioned, but I want to preserve some of the virgin experience for the people who are kind enough to attend our show Wednesday night. I was inspired by exhibits I saw at the Ghibli and Suginami animation museums in Tokyo, and I relied heavily on assistance from friends. I had a great time working on this project, on thinking out all the little details — even when they stressed me out and made me feel like a fool for not having considered them earlier. Kicking yourself is an important part of the artistic process.
One thing that really stymied me was the (supremely intimidating) realization that I would be doing my first art installation. I think of myself as a writer first and foremost, not an artist. I think of myself as someone who plays with words, not materials. Realizing that my work would be exhibited alongside the work of people who think about visual and experiential aesthetics on an everyday basis made me wish I had paid more attention to the designers in the SFI program — their stuff always looked great, and I was always far more focused on content than style. On the other hand, once I started thinking about the installation as a puzzle for the visitor to solve, everything became clearer. Not better, necessarily, but easier for me to imagine.
My thesis (the one I just defended) is on the future of border security. So when my friend and classmate Gabe Sawhney suggested Bordertown to me, I tried my best to get in. I survived the interview process, and eventually met a bunch of designers — graphic, animation, costume, web, experience — with amazing ideas about how to explore border spaces through art. It helps that we met each week at Site 3, a spin-off of Toronto's HackLab. It's sort of a collaborative club where classes in everything from lasers to leatherwork are taught. It's hard not to feel an instant creative rush once you smell the solder and the sawdust.
I really needed that energy to work on this project in between finishing my thesis, working on my novel, traveling to northern Ontario, working on my SFContario schedule, and trying like hell to figure out when I'm going to American Thanksgiving. This has been one of the busiest months of my life, and for every accomplishment I've heard that little voice reminding me that there's still more to do. (For example, I have to finish the edits on vN, and I have to do the same for my thesis. Also I have to select a gym or a yoga studio, because the past year has wrecked my body and I need a better routine.)
Now that the news has been Boinged, I'm hoping that we'll see a lot of people at the opening. If you're in Detroit, please stop by!