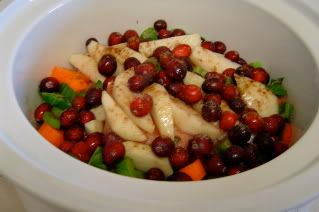 I am blogging this dish because I want to remember it. And also because you should make it. Tomorrow.
Inspiration for this dish came from the pears and cranberries which colour it and lend it sweetness. They showed up in my (university-organized!) CSA box, and I had no idea what to do with them. Mike and his partner Lorna suggested a chutney. Dave said I should stuff a chicken with them. In the end, I wussed out and reached for something easy: my slow cooker.
You can thank me later.
Autumnal Pork Tenderloin
1 TB olive oil
1/2 onion, sliced into rings
4 small potatoes, sliced into rounds (I will use more next time, or substitute 2 long sweet potatoes)
1 pork tenderloin (standard size; I chose the pre-packaged type)
2 carrots, skinned and chopped
2 stalks celery, chopped
1 thumb fresh ginger, skinned and chopped into matchsticks
3 pears, skinned and sliced
2-3 handfuls cranberries (your hands are most likely bigger than mine, so two is probably fine)
1 tsp sugar
1 tsp five-spice powder
1/4 cup sake (or white wine)
2 TB soy sauce
2 TB mirin (or sweet sherry or even Calvados; it's your dish)
1 TB raw apple cider vinegar
1 TB honey
1/2 cup brown rice, uncooked
Drizzle olive oil into the slow cooker. Lay onion slices flat, then place potatoes over them. Place the tenderloin over that. You may have to slice your tenderloin in half, like I did. Nestle ginger and vegetables around the meat. Drape pear slices over the top and in between, then scatter cranberries over the top. Dust with sugar and five-spice powder. Mix the liquids together vigourously to incorporate the honey, then pour over the top. Set the slow cooker to LOW for about eight hours. Mine was ready in four, but that was because I was silly and set the cooker to high. I should have remembered: this is pork tenderloin. It is naturally tender — that's why it's called "tenderloin." It does not require high heat, like other meats.
Now, about that rice.
Unless you alter the amount of liquid added to the dish, you will have a lot of liquid by the end of your cooking time because the pears and cranberries will let loose their juices. This is fine. (Unless you tend to whine about it on the Internet, like me, until your friend tries calming you with the dulcet tones of The Rockford Files.) Simply rinse a little brown rice (or quinoa, or couscous, or whatever), briefly pull out the meat, and scatter the grains into the broth. Replace the meat, cover, wait a half hour. Your rice will have plumped up and thickened the broth into something more than, well, broth. For nutrition's sake, you could use a high-protein grain like quinoa, or replace the potatoes used earlier with orange sweet potatoes or another, less starchy root vegetable. (Daikon? Parsnip?) Normally I don't like my dishes to have two starches in them, although with all the honey in this thing my concerns are likely misplaced.
Now you eat it. And thank me, later.