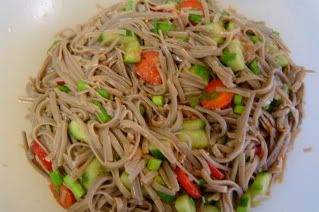 This one's for Kayleigh, in lieu of a bento box shipped between Ontario and California. I decided to try it after picking up the various ingredients at various points across the city: organic buckwheat-and-taro noodles from a gourmet food shop on College Street, ume-flavoured "drinking vinegar" from a chain drug store, and strawberries and garlic scapes from my local farmers' market. As such, it's the first dish I've made that's built around the ingredients, rather than a style of preparation. (For example, I make niku jaga with sweet potatoes on occasion, because authenticity is less important to me than nutrition, availability, or honing a technique.) It's also one of the few recipes I've ever asked for help on; my friend and human food wiki Michael was there to pat my hand — via email — and tell me that yes, the flavour combination I had in mind would probably work.
According to Jill, the wheat-free friend for whom I intended the dish, he was right.

Strawberry soba salad with ginger and mint
Salad components
8 oz. (one package) soba noodles
1 small package strawberries, sliced
3 garlic scapes, chopped
3 English cucumbers, peeled, halved, sliced, and lightly salted
Yuzu togarashi (a Japanese blend of dehydrated yuzu peel and hot pepper) (optional)
5 leaves fresh mint, washed and sliced into ribbons
Salad dressing
3 teaspoons rice vinegar
5 teaspoons soy sauce
3 teaspoons toasted sesame oil
3 teaspoons (at least) ume drinking vinegar, ume juice, or pear juice
2 inches fresh grated ginger
1/2 teaspoon honey
Process
Make the dressing ahead of time by blending the ingredients together in a non-reactive (glass or ceramic, i.e. non-metallic) bowl or jar, then covering it and stashing it in the fridge overnight. This way, the flavours marry before you apply them to the solid ingredients.
Boil the soba noodles. The water will turn milky with starch. If you want, you can reserve some of this starchy liquid and use it to thicken something else, like a sauce. Taste-test to see if the noodles are finished, then drain them into a colander and wash them under cold water. Make certain that you wash them, otherwise they'll stick together and taste wrong.
While the noodles are cooking, prepare the strawberries, cucumber, and garlic scapes. Make sure to inspect the strawberries for mould. Press the mint dry between two paper towels before slicing it, and lightly salt the cucumbers after chopping them. I also seasoned the cucumbers with the yuzu togarashi at this stage.
Toss the washed noodles and chopped ingredients together, then taste the dressing to see if it's to your liking. (If not, add whatever flavour you think best fits: sweet, salty, savoury, acidic, etc.) Dress the salad and toss.
Season again with yuzu togarashi, some lime zest, or toasted sesame seeds.