A while back, the amazing people at FuturEverything invited me to Manchester to give a talk at their festival. I had watched the festival from afar via Twitter for years, and I felt like the cool kids (Goth-cool, not preppie-cool) had finally invited me to their lunch table.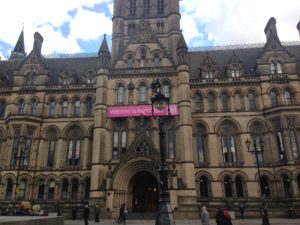 Only their lunch table was Manchester Town Hall, which is a Victorian neo-Gothic cathedral to municipal goings-on, complete with gargoyles, crenellations, murals, stained glass, brass chandeliers, and odd little mosaics depicting bees. "It's a worker bee," one of the volunteers told me, in a very helpful tone that was not all reminiscent of an extra in The Wicker Man.*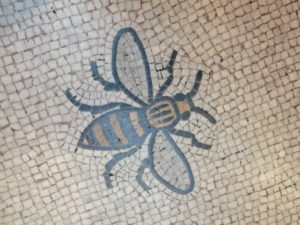 I had a wonderful time. And I'm very grateful to have been invited. FuturEverything is a first-rate event that hops between multiple locations within Manchester. The main event is a series of curated talks that become panel discussions, with appropriate breaks in between and the ability to leave whenever you like. (I watched a bunch of people check out of a talk about climate change, for example. I guess the despair was too real. Pansies.) But you could also just check out some of the art installations that are happening all over town. For example, this piece, "Smoke Signals," translates data streams from seven different arts organizations into smoke and music. That is Anthony Burgess' piano.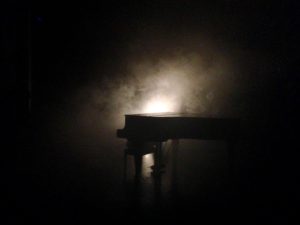 I left revived and excited — at least until I caught whatever bug was oozing its way through English airports that month. (Some friends who visited London a few weeks earlier came home with exactly the same thing.) But the talks and discussions — and the research that they stemmed from — were genuinely fascinating. Plus it was wonderful to hang out with my Twitter friends in the foresight/arts/materials science/bot/data science fields. Every minute I wasn't at the conference, or staying up through jet-lag watching old Elastica performances on my hotel tv, I was with them. It felt like going to my home SF convention, only with a different crowd. We even made sure to have breakfast together on the last day (thanks to Natalie Kane's organizational skills). This is the point at which I'd show you the smoked haddock rarebit I had with extra sausage and baked beans at the Koffee Pot, only it smelled and tasted so good I simply had to eat it right away.
Anyway, my talk was called "Abandon All Hope?", and now a transcript of it is available if you're interested. Or, you could just listen to it:
It's about dystopia as lived experience, and futurism as pre-factual thinking and defensive pessimism. Enjoy!
*Yes, yes, I know, bees and labour and Manchester and drones serving a queen-as-metaphor for England itself. It just took my jet-lagged brain a while to put it all together. Also those bees are everywhere, on every surface, and if you don't get it, it can seem slightly Hammer-esque.