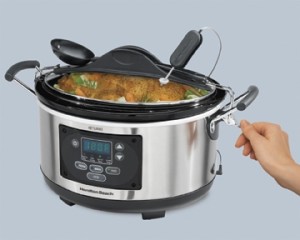 Writers tend to get the same presents every year for holidays, birthdays, and other occasions. Those presents include notebooks, pens, lap desks, and coffee mugs. (Anything that's in the impulse-buy section of a chain bookstore, really.) And those are good things! But you may have already gifted them last year. If you want to avoid repetition, try picking up things that writers (and the people who live with them) might actually need. These are all things that I already have and use, have used and enjoyed in the past. I'm not getting paid to shill any of this; I'm writing this list because I've already recommended these things to friends in passing, and thought I might share more widely as sales emerge.
Hamilton Beach Set n'Forget Slow Cooker People think that slow cookers are meant for cooking meals while you are at work. What they're really for is making meals while you're on a deadline. You chop the ingredients, nestle them in, season to taste, and then get to work. I've worked with multiple slow cookers. This one is the best. It has a built-in meat thermometer, allowing me to program the desired internal temperature for a brisket or picnic cut, set the heat, and walk away. When the meat reaches that temperature, the cooker kicks over to the "warm" setting. No more stringy, chalky, overdone meat. No more cold spots in the curry. And, best of all, no one whining about when dinner is, or when you'll be done writing. "Dinner is in the slow cooker," you can say. "And I have two thousand words to go."
NutriBullet There are blenders, and then there are Bullets. The NutriBullet was responsible for my and David's breakfasts for almost a year, and we still use it for quick sauces, dips and making instant nut flours. It's powerful enough to make nut flours and nut butters, but also liquefies leafy greens, frozen fruit, bananas, and seeds into potent smoothies. Unlike a juicer, it maintains the fibre content of the fruit and vegetables. (Juice is delicious. It's hydrating. It's not the best way to get your vitamins and minerals. No, not even your cold-pressed organic juice. I'm sorry.) If you're on a roll and you have to eat, but you don't want to cook, this is the device for you.
Heys 21″ Carry-on Spinner Writers travel. We go to conventions. We go to literary festivals. Some of us have to fly just to meet with our agents. That means needing luggage that carries four days' worth of clothes, but also won't explode as you're hastening between terminals at O'Hare. (And yes, you need a carry-on at O'Hare. Because under no circumstances should you ever check baggage through O'Hare.) It also means needing luggage that's light enough to hoist onto innumberable TSA scanners. Hell, even if you don't fly frequently, you still need good luggage that snugs into a car or onto a train platform without too much trouble. A good carry-on will see you through family trips, funerals, weddings, getaways, and all manner of escapades. For my thirtieth birthday, I bought myself luggage. It was one of the best gifts I've ever given myself.
Solid shampoo, conditioner, lotion, etc. I have oily skin and frizzy hair. So I travel with a lot of liquids. Too many liquids. The number of times my luggage has been rifled through because I traveled with too many liquids is embarrassing. Almost as embarrassing as the horseshit "war on liquids" policy that is a recent trend in security theatre. Want to avoid this embarassment? Carry solids!
Lessons or classes with a Pilates or yoga instructor. Obviously this varies by location and availability, but the one invariance involved is how terrible for the body writing (or any desk job) is. It weakens the core, torques the lumbar region, encourages slouching, creates neck pain and carpal tunnel, and in general renders you inflexible and immobile for the important things in life, like sex. The way to counteract this is to get some fucking exercise, pun intended, and to target that exercise at the areas most diminished by desk work (the core and the lumbar spine). That means yoga and Pilates. Yes, gentlemen, that means you, too. "Oh, it's just stretching," I hear you say. No, it's not. You're only saying that because you haven't tried it. If you had tried it, and you had made a sincere effort with a good instructor, you would know that a good Pilates class will leave you in a puddle of happy sweat on the mat. You will stand taller, sit straighter, and fuck harder than if you hadn't done that matwork. (And yes, I'm aware that standing desks exist. Those really work for some people, which is awesome. But I don't use one, and thus can't recommend one. Also I used to work retail. I remember standing for hours at work. It's not an experience I want to repeat.)
Cuisinart 12-Cup Grind & Brew Coffee Maker How do you think your novels get written? Armies march on their stomachs; writers march on their coffeemakers. Or something. Whatever. You know what I mean. This makes excellent coffee, keeps it in a thermal carafe that keeps coffee warm all day, and has a burr grinder included. It also features a timer that lets you program it to start making coffee before you're even awake.
Tea Mugs with Infusers I don't always drink tea, but when I do, I drink it from one of these.
Slippers If you're a writer who works from home (or if you have any type of work-from-home job), then you probably don't wear shoes all the time. Going barefoot is great. But stepping on errant cat litter crystals is bullshit. Solution: slippers. Try to gift a properly-sized pair with real tread on the bottom; slippers that are too slippery, or loose-fitting, can cause accidents on staircases, tile floors, etc.
Bathrobes (and more bathrobes) It's really tempting for people who work from home just to wear pyjamas all day. (Occasionally you will see tweets about this.) And that's all well and good, until a box of books arrives in the mail, and you have to run and sign for it, and you're wearing a bamboo fibre slip and no bra and you tell the guy at the door "Yes, I'm Madeline Ashby," and he looks you over and says, "Of course you are." Get a robe. Give a robe.
Scrivener This is the best piece of word processing kit that I have ever used.
Apple TV Eventually you will stop writing and start catching up on other media. When you do, you will want one of these. It's a hundred-dollar hockey puck that makes buying content (and thus paying other writers) almost too easy. I've tried other services and other devices. This is the best.
A subscription to The New Yorker David's father gifted me with a subscription to the magazine when he was still alive. I still have back issues lurking about. With the digital subscription, you can enjoy all the back issues — including the fiction — and receive new content every month.
Buying everyone else on your list books by your favourite writer. I mean, obviously. This is the gift that keeps on giving.
These are expensive.
They won't be as expensive on Black Friday. And you can find less expensive versions of some of these things elsewhere. If you think one of these items is the perfect gift, but you blanch at the price, set up a Google Alert and wait for the deals to appear in your inbox. There will be a sale on all of these items at least once between now and New Year's Day.
These aren't "writerly" enough.
A subscription to The New Yorker wasn't writerly enough for you? Do you know any writers? Be honest.
Look. I love extravagant, impractical things. I love sparkly things. I love perfume and jewelry and lingerie and high-end boxed sets of blu-rays. But those are extremely personal gifts, and I can't recommend them to a broader audience. If you want to buy something in that vein, you need to have a real conversation with the recipient of your gift. What the recipient of your gift probably wants, deep down, is to have that conversation with you, because it's a conversation about things that are important to them that you are also showing an interest in.
Or you could just get a giftcard to a bookstore. That also works.
My writer friend has all of these and I have money to burn. Now what do I get?
Book him a massage.
My writer friend has all of these and I have no money at all. Now what do I get?
Help her clean up her environment. If she's snowed in by deadlines, she is likely stewing in the funk of her own forgotten dishes, stray socks, and piled envelopes, not to mention whatever's lurking between the counter and the refrigerator. This is a depressing place to live and work. Help her dig herself out. Doing that kind of drudgery is always easier and faster when a friend is involved, the music is on, and there is a promise of hanging out afterward.