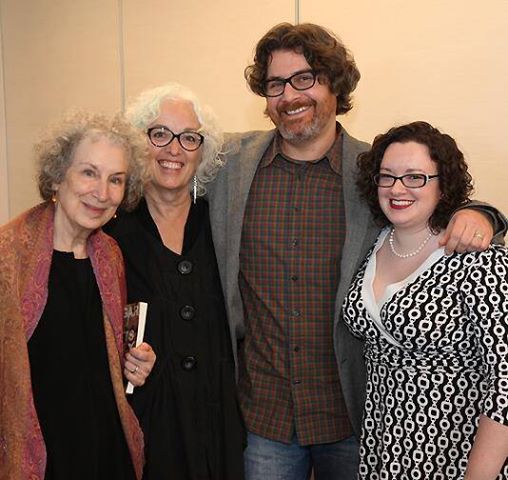 So, this happened. I went to the Kingston WritersFest, where I was on a panel with Margaret Atwood and Corey Redekop. It was a really fun panel, but I felt kind of embarrassed about how I fumbled through my reading. Also, I didn't sell very many books. Given that my publisher helped send me there, I feel like I didn't bear out their investment. On the other hand, I was there to represent a series of novels, one of which has a brown guy on the cover, and at Atwood's request I read a section of the book that details blowjob technique.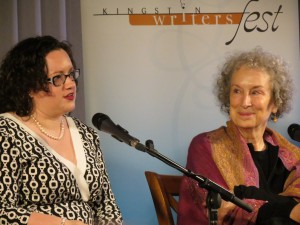 Aside from feeling like I didn't do my best, I noticed a few things about the convention. First, it wasn't a convention, but a festival. Basically that means that there were fewer people, everybody wore blazers, and the green room had more vegetables. There was a pay-to-play aspect to the whole thing: if you wanted a ticket to a talk, you purchased one. Visitors were under no obligation to attend the whole thing. They could take in a panel or two and then venture out to Kingston and enjoy a dinner at Chez Piggy. (Chez Piggy and Pan Ancho are both excellent restaurants in Kingston, and both have meaningful, delicious options for vegetarians. If you're a vegetarian visiting Kingston, this is where you want to go. Vegans maybe not so much, but if you're cool with lacto-ovo you're golden.) There was no rush to catch everything. This also meant that while there were lines, the lines were full of people who were already guaranteed a spot. Given the total public relations fuckup at WorldFantasy 2013 regarding ticketing events, I found this of interest.
The other thing I noticed was the amount of girls there with their moms. Maybe because the panel had three women (including the moderator) and only one man, more women were inclined to come. Or maybe more moms are trying to get their girls to read Atwood's work. Or maybe those girls are more familiar with her work already, as books like The Handmaid's Tale are pretty common on highschool reading lists in Canada. But there were a lot of kids at the festival in general, and I can see why: the festival had a whole track of programming dedicated to teens and their writing.
Workshops. For teens. More than one of them. Funny, how that draws thoughtful parents and thoughtful kids in droves. It was almost as though the festival really cared about cultivating a crop of young readers.
I have wanted to be a writer basically my whole life. (At one point when I was five I wanted to be a trapeze artist, but I'm not sure if that's because I wanted to fly or because I wanted to spend my days in spangled leotards. We'll never know. The next week I wanted to be a film director. That was after I saw Jaws for the first time.) To their credit, my parents never tried to dissuade me from that desire. Rather, they fed it with books and good films and opportunities: I went to theatre camp, and the PNWA Young Writers' Camp, and I was a liturgist at my parish. Had festivals and activities like the ones in Kingston existed where I lived, they probably would have taken me. (But that would require state funding for arts programs! Heyo!) And I probably would have kept going, because parents are really interested in whatever their kid manifests and interest in, ever. Not because their kids' interests are inherently compelling, but because it's a thing that they're into that doesn't involve getting high or pregnant. Activities like that provided an irresistible lure for my parents' wallet.
So, some thoughts for conventions that are looking to change some things:
Consider changing up your programming –> cost model. One thing I've always wondered about was how conventions might look like if visitors paid by track: I might buy access to Writing, Anime, and Science tracks, while someone else might buy Steampunk, Media, and Erotica. That way everybody would have a seat, the conversations could go deeper, and you might actually have weirder, more interesting panels. Also, if you manage to separate these tracks geographically, I will never have to bypass a masquerade/signing/photography line ever again.
Offer workshops for teens that allow them to be vulnerable about their work in a really safe space tailored to their needs. And by "their work," I don't just mean fiction. I mean costuming, or videos, or games they're prototyping, or poetry, or whatever. Teens are not hustling. Not yet. They haven't all found the thing they want to hustle for, and that's as it should be. We need to give them the space to try things out, not just invent random activities that will keep them occupied so Mom or Dad or whomever can try to make friends with an editor. And if that means just having a quiet room for teens with open wifi and a bunch of cushions, so be it. (Speaking of which, I would like a quiet room at conventions with open wifi and a bunch of cushions. And no, the lobby does not count.)
Figure out how to fix the harassment problem. It's now so bad that even Margaret Atwood asked me about it. In public. On a panel. Get on it.