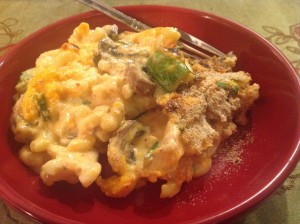 This is the best macaroni & cheese dish I've ever made. I've been trying for years, and I can safely say that this dish successfully merges the yearnings of my childhood self with the gustatory leanings of my adult self.

When I was a little girl, I was a very picky eater. I hated condiments and strong flavours; I abhorred certain textures like ricotta with a deep and sustained passion. I subsisted for days at a time on carrots and vanilla yogurt. Because I liked chicken, my mother told me that all meat was chicken. "Oh that's just salmon chicken," she would say, when I asked why my chicken was pink and flaky. "It's a different breed." Part of my pickiness, I suspect, was the fact that I spent a lot of my childhood on medications. I had what is now referred to as "failure to thrive." I was unable to put on weight, and was constantly getting ear infections. One year, I had pneumonia three times. So I was basically on one antibiotic or another, plus asthma or allergy drugs. By the time I was five, I was taking adult doses. I'm willing to bet that this seriously fucked with my appetite, and made me capable of enjoying only, well, Kraft dinner with hot dogs sliced into it.
It's probably also why I'm a terrible eater, now. I love food and lust over recipes, but I have to check restaurant menus online before I visit them and choose what I'm going to eat hours before I sit down. I also don't eat very much, if anything at all, during the day. Not that you'd know it, to look at me — but that's because when I do eat, it's in the afternoon, and it's bread and cheese.
Speaking of carbs and cheese, this recipe has a lot of both. It also has vegetables, and kimchi. I don't pretend that the vegetables in any way ameliorate the unhealthiness of the dish, but they do provide textural contrast and fibre. This dish is also a really great way to get rid of vegetables you haven't used yet. Even if they've been forgotten in a drawer, they'll perk up once drenched in delicious cheese sauce and baked for a while. Likewise, this also a good way to clear out some room in your cabinets. That's because it uses some canned goods that you probably have lurking somewhere in advance of the zombie apocalypse, but have no clue what to do with. This is what you do with those.
But honestly, my favourite part of this recipe is that it has no roux. Most good mac & cheese recipes will tell you to start with a roux (a mixture of butter and flour, to which milk or cream is usually added) so as to make a Bechamel or Mornay sauce. But let's face it: this is mac & cheese. You (and I) developed a taste for it because once upon a time, before we had grown any pride or pubes, it involved boiling some water and opening a packet of dry cheese dust. But now that you're a grown-up, you're supposed to make a whole sauce? One that you have to stand and watch and stir constantly? What? What the fuck is that? It's fattening cheesy goodness, the kind you make when you're sad or drunk or both. Fuck that sauce bullshit.
This way is better.
You will need:
2 cups (dry) macaroni
2 cups shredded cheddar cheese
8 oz sour cream
1 can evaporated milk
1 can cheddar cheese soup
Brussels sprouts, stems chopped & cores quartered
Mushrooms, stems removed, sliced
1/2 cup kimchi chopped
2 bunches scallions
1 TB sherry
Salt, to taste
Breadcrumbs
Now, I know what you're saying. Cheddar cheese soup?! What the fuck? Who makes that? And why? Look at cheddar cheese soup and tell me there's a god. This is why cheddar cheese soup exists. This, and hot cheese dip. Your faith is a solitary road, but you can at least trust that the people at Campbell's know what they're doing. Ignore your doubts as the cheddar cheese "soup" slides out of its can, tin ripples intact like cheap cranberry jelly. Don't look at it. Try not to think about it. You've made an unholy bargain, here, getting out of your roux, and there's no going back. Now you've consigned your soul to the bubbling lava of cheesy perdition, here's how you make this thing:
Preheat your oven to 350F.
Set your pasta boiling. If you don't have macaroni, use rotini or short penne.
Take out a 13″9″2″ baking dish. Oil it with olive oil.
While your pasta is boiling, chop your vegetables. If you don't have these particular vegetables, don't sweat it. Use what you've got. This is a great way to use bitter greens, though. There's a reason collards are served alongside mac & cheese in the American South.
Add the kimchi. You can chop it more finely if you like, just make sure it's in bite-sized pieces. It's okay if you get the kimchi juice in there.
Make your sauce. Shred your cheese into a large bowl. Add all the liquid ingredients, plus the scallions and salt. Stir until all are combined evenly.
Your pasta is likely done, now. Drain it and rinse it, then put it in the baking dish. Add all your other vegetables and blend them together in the baking dish.
Pour the sauce from the bowl to the baking dish. Go slowly. Start by spooning it out. It will form a lump over the pasta and veggies — make sure you blend the sauce with the solids.
Top with breadcrumbs (or crushed potato chips, or shredded parmesan, or nothing at all).
Bake for a half hour.
Turn the oven to broil, and brown the dish for four minutes.
Allow the dish to cool for at least five minutes before serving. Try to eat only one serving.