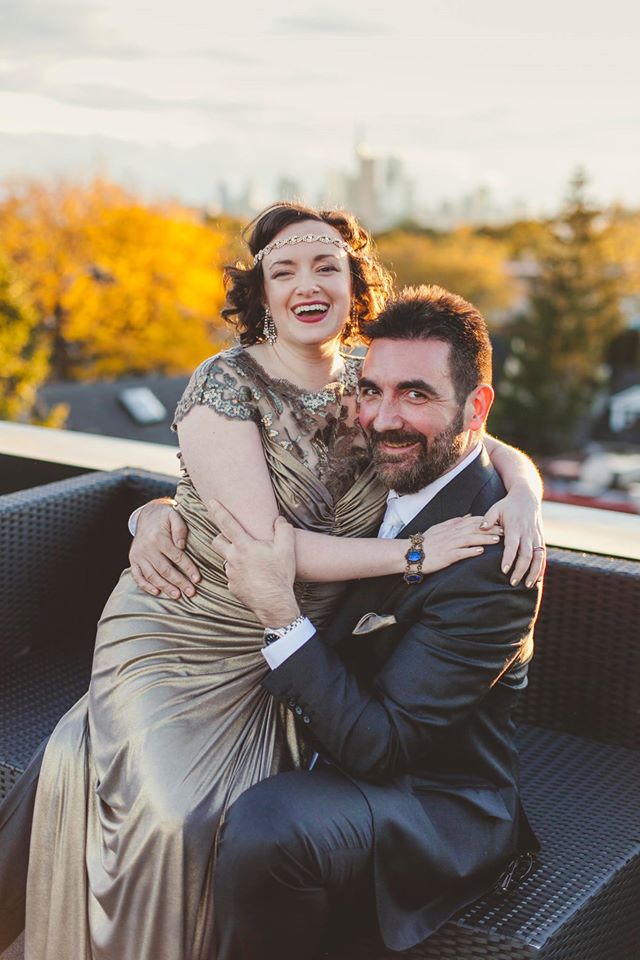 On a recent chilly October afternoon, I married my best friend, David Nickle.
David and I met in May of 2006, when I joined a workshop for genre writers. (Or rather, when I auditioned for them. I wrote such a polite letter of introduction that they all thought I was a widow in her sixties. I was 23.) We have been almost inseparable ever since. One hot summer afternoon that year, I found out that Dave had a vacation day and said we should hang out. He proposed a walking tour of the city. We started at City Hall, where I'd been married only two months before. Then he took me to the old Bakka-Phoenix location Queen Street, through Trinity Bellwoods Park, and past the site of the Morganthaler clinic, and the Merrill Collection. It was a hot day. Muggy. It didn't matter. We kept finding excuses to keep walking. For the first time in months, I began to feel like Toronto was home. I started to see a future here.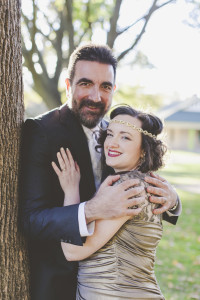 We talked every day. Little snippets of conversation at first, questions from me about some bit of workshop protocol or Canadiana, answers from him that spooled into stories and piled up into histories. Pieces of fiction sent, context-free, like shreds of evidence to be analyzed. The night before my permanent residency interview was a Monday, the traditional workshop timeslot. We had no manuscript, so the group went to the Pilot instead and drank until I felt better. But even so, when I stared down at the streets that might soon become mine, I still glanced up at Dave and asked: "What if they don't let me stay?"
He wrapped his arms around me. He didn't let go for a long time. "You're staying."
If I was not surprised at the intensity of our friendship, it was because the majority of my friends in university (from whence I'd recently arrived) were guys. Geeky guys. Geeky guys who indulged my desire to watch David Lynch's Dune on Saturday nights and listened to my advice on Silent Hill puzzles. When I hear stories about geek guys wary of "fake geek girls," who think geek girls are reading comics or playing games or watching anime "just for attention," I want them to meet my friends. They never once doubted my geek cred. If someone in our group of friends hadn't seen something, we shared it together. We even had a group Netflix queue. (This was back in the Pleistoscene, when Netflix only sent discs and you had to pay extra to hold three at once.) We saw good movies, played good games, read good books. Simple. Easy. Friendly. But without those friendships, without my experience of that easy camaraderie and respect, I wouldn't be married to David today. The same goes for the geeky couples I knew, specifically my parents' next door neighbours. They were long-term Microsoft employees, and they gave me a model for geek marriage. They also got me into a MS screening of Revenge of the Sith. You haven't lived until you've gone to a Star Wars movie with the whole Longhorn crew.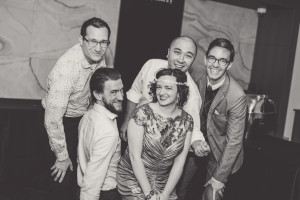 I assumed that Dave would be another of these friends, generational differences notwithstanding. My parents' steadfast refusal to adopt cable television closed much of that gap between us; my reading and viewing habits did the rest. As a wedding gift, my mother gave us her first edition copy of Stephen King's The Gunslinger. It was the illustrated edition I'd read in a single night during my teenage years, the one published the year before I was born. The same edition David had coveted ever since. My mother still has the paperback edition of Night Shift, one of King's best story collections, the one with the eyes in the hands. As an infant, I chewed one corner of it. My bitemarks are still there. "I cut my teeth on that book," I joked to David, during one of our many Monday night dinners of Korean barbecue, before our workshop. "So did I," he said, smirking.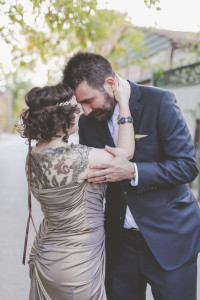 David and I remained just friends for years. We were with other people. He did nothing that frightened or offended me, nothing that felt creepy. If he was slightly protective at conventions, it was because he knew who the creepers were, and had known them for years, and knew how to slip in between me and them. If we started having dinner together every Monday, it was because it was more convenient to both our schedules, allowing us to a) eat barbecue and b) decide who got to make which point during the critique. If I started messaging him every time I crossed the border, it was because he fretted about customs. We simply became part of each other's lives, like family members re-united after a prolonged estrangement.
I cannot point to a single moment when things changed. Rather, I can point to a hundred different ones. Michael Ondaatje says it best: "Later, when we were aware of mutual desire, these previous moments flooded back into the heart, now suggestive, that nervous grip of an arm on a cliff, looks that had been missed or misinterpreted."
I first read The English Patient when I was fourteen. It made me a history major, which in turn made me a futurist. I did not expect to spend the latter parts of my twenties trying desperately to pull a happy ending from it. But I did. We did. It was not easy. In fact, it was one of the hardest decisions I've ever made. But it was also one of the best. I turned my life upside down. I lost friends. But the depth and expansion of this friendship is greater than the loss of any other, no matter how dearly missed. Our early years were difficult. Now they are not. Now I am happier than I have ever been.
All these years later, these are the words I said.
David,
It has been almost ten years since I met you. And back then, when I first joined the Cecil Street Irregulars, I noticed two things about you.
The first was your voice, and how well it complemented your face and your eyes and your smile. It's rare that God gives with both hands, but when She made you, She was obviously feeling very generous.
The second thing I noticed, after a while, was the knack you had for ending all my stories in the way that best suited the way I'd written them. No matter what ending I came up with, you always came up with an ending that was more fitting, more elegant, and more meaningful. Eventually I stopped worrying about how to end them, because my endings were always yours to improve. And that is why I'm standing here before you, today. Because you are the end of all my stories. You are the best ending I could ever ask for. You are my call to adventure, and you are my companion for the journey, and you are my moment of triumph, and you are my return home. I've never known myself as well as I know myself when I am with you.
I love you.
I loved you on a silent drive home through the snow, when we both sighed at the beauty of the landscape at the same time. I loved you when you first handed me a plate with a steak on it, cooked exactly right, as though we'd been eating dinner together our whole lives. I loved you when you made me that Supernatural mixtape. I am just as helplessly in love with you today as I was on those other days. I'm gonna love you 'til the wheels come off.
Almost five years ago, in a tiny apartment just around the corner from here, you wrote me these words:
"I want you in my life. My life will be diminished intolerably without you. I want to spend the rest of my days making eyes at you and meals for you and love to you. I want to bask in your love for me. I want to bathe you in my love for you."
At the time, I thought I understood what those words meant. But it's only today, years later, in this place, so close to where we lived and yet lightyears from where we were, that I can return them to you, with neither fear nor equivocation. Five years ago, I asked you to imagine our ideal future, so that we could work together to create it. And you have worked tirelessly to make it happen. I want to continue that work with you, to dream bigger, to boldly go.
So here is what I will do to make that dream a reality.
I promise to love you even when I am angry with you. I do not promise to never be angry with you, or never be frustrated with you. But I promise that you will know that you are loved, even in those moments.
I promise not to stagnate, in my habits or my thoughts or my career. I will not give up. I will stay curious. I will remain interested and interesting.
I promise to help you be the version of yourself that you want to be. As a person and as a writer, and even at the gym, I will always believe in your ability to achieve your goals. I will not underestimate you. I will laugh at the people who do, because I will be your strongest, loudest, proudest advocate.
Just as your friends have become my friends and your family has become my family, your enemies will become my enemies. Anyone who hurts you will immediately wish that they had not.
I promise to travel the world with you, to share with you the art of nature and the nature of art.
I promise to help you make roast chickens when you're starting to feel sick, and re-purpose it for chicken soup when you're genuinely ill.
I will be with you when you are ill. I will be with you at the end.
Above all, I will be what I have always been. I am, and ever shall be, your friend.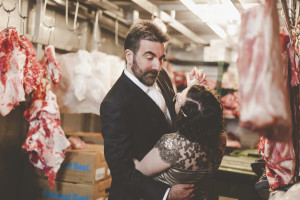 For those who might be curious:
Photography: Kayleigh McCollum
Dress: Tadashi Shoji
Suit: Caruso Fine Tailoring
Venue: The Forth